KNK studios is a Massachusetts-based Architecture, Interior Design and Construction studio founded in 2002 by Klarens Karanxha and Nensi Bregu Karanxha,.
The firm strives for design excellence in every project and brings an internationally diverse background of experiences to each work. KNK studios work is determined by a collaborative process, that provides consistent quality, creativity that responds first to its clients needs. The firm has worked with families and individuals to create one-of-a-kind homes. The firms offers architecture, construction, interior design and marketing design services.
The KNK studios team engages in a very distinct way to each project, emphasizing the qualities and making it unique to its users, without imposing a design style.
The firm exploits over a decade experience, the latest technology and media, to achieve results of lasting value. KNK studios provides services to the clients across times zones and locations, by using the latest form of digital communication.
Services
Architecture- full architectural design services.

Construction- construction administration and design-build services.

Renderings - 3d computer and hand renderings.

Art- original hand paintings , drawings and digital art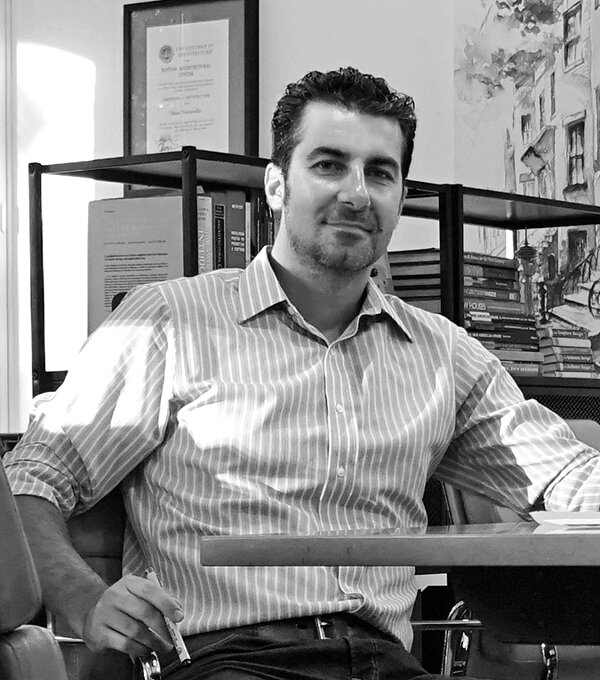 Klarens Karanxha is founder of KNK studios in Milton, MA. Prior to working full time for KNK studios , he was Senior Project Manager at Khalsa Design Inc, Cambridge MA and a Project Architect at DKD, Boston MA. His 20 years of experience include high-end residential, commercial, multi family and office building projects.
Klarens's design approach is creative and down-to-earth with the intent of making the client comfortable. He enjoys interacting and collaborating with sub-contractors, the building trades, on his projects, learning what they can do, walking them through what he is looking for, and working side by side the craftsman as needed.
Klarens has a Bachelor of Architecture Degree from Boston Architecture College, in Boston MA. He also completed 3 years Architecture and Engineering in Polytechnic University of Albania prior to moving to USA. He is active in community and enjoys basketball, soccer and biking.
Nensi Bregu Karanxha is the founding partner at KNK studios. During school she worked at Designer's Cadd, an Autodesk Reseller company. She received a few certification from Autodesk. Later she worked for Neoscape, a full service creative agency specializing in branding and visual storytelling for institutional & real-estate clients. She got published in well known industry publications, EXPOSE and Elemental. After graduation from Boston Architectuural College, with a bachelor deegree in Architecture, she worked for Elkus Manfredi Architects. Nensi's design process focuses on certain principles such as form, scale, light, and proper proportion, as well as exploring connections between people, the indoor and outdoor environments, and materials. Her excellent computer skill in 3 dimensional visualizing and illustrations, helps clients envision the project that is not build yet. She also completed 3 years Architecture and Engineering in Polytechnic University of Albania prior to moving to USA. She enjoys volleyball, painting and photography.